Comrades, Soviets, prisoners – lend me your ears! I come to bury Stalin, not to praise him!
Stalin's death on March 5th, 1953, brought about the new regime of Nikita Khrushchev, one of the heads of the Soviet Union. During the Twentieth Party Congress on February 25th 1956, Khrushchev, in bold manner, closed all doors of the Congress to the public and delivered his famous "Secret Speech," which wouldn't be so secret after all preceding several games of telephone. His words served as a first for the Russian people, speaking publicly, or in front of a large body of party members, of Stalin's crimes, including: "arrests, deportations [to Siberia], and executions of Soviet Citizens." Not only did the new head drag Stalin's treatment of the people through the mud, but he also denounced his leadership during wartime, his use of "cult of personality," and believed Stalin to be the downfall of Soviet agriculture (RR 540). Khrushchev is said to have initiated the "Thaw," or the de-Stalinization of the USSR with his not-so-Secret Speech.
A point Kruschev brought up was Stalin's creation of the term, enemy of the people
"[…] this term made possible the use of the most cruel repression, violating all norms of revolutionary legality, against anyone who in any way disagreed with Stalin […]. This concept, "enemy of the people," actually eliminated any possibility of any kind of ideological fight or the or the making of one's views known on this or that issue, even issues of practical nature."
An example of one of the offenders of Stalinist ideology and an "enemy of the state" included any kind of progressive persons that didn't necessarily follow the party line, whether they be Western, capitalist, or of a bourgeois mentality. Unfortunately, this group of people included scientists that didn't follow "Soviet Science," who were of course either purged or sent to Siberia to work in the gulag, hindering scientific advancement for decades. This changed during the "Thawing" of Soviet Russia, scientists and other related intellectuals were free to research and spread knowledge on whatever they wanted, as long as the work was purely for the advancement of post-Stalin Russia and separate from Stalinist-ideology. Consequently, a new scientific community flourished in Akademgorodok, Siberia, otherwise known as the "Soviet Silicon Valley."
The scientific hub was created in 1957 by the man himself, Nikita Khrushchev, who approved of a space specifically for scientists and students in the field to conduct their research free of distractions. Akademgorodok was built deep in the Siberian forest, 30 kilometers away from the nearest city, Novosibirsk, plenty isolated from the rest of the USSR. It originally was "built as a woodland campus for Novosibirsk State University along with 15 institutes for the Soviet Academy of Sciences," offering courses from nuclear physics to geology, building a bridge between research and education. This appeal to scientific advancement within the motherland that was previously repressed brought about around 65,000 scientists along with their families at most. The Soviet Silicon Valley has even found its way into a Guinness World Records for having the "The Brainiest Street in the World," Academician Lavrentiev Prospect has well over 20 scientific research institutes in only 2.5 kilometers.
The scientists and students at Akademgorodok were said to have been possibly a league above their counterparts in both Stanford and MIT, American colleges notorious for their standards in the STEM fields. In fact, a term associated with the linkages between education and research was "Phystech." As for the actual living of the residents, Soviet designers and architects strove to retain the "natural beauty" of the surrounding forests, complete with animals like squirrels and birds, and mountains that would allowed for skiing in the winter. Other amenities that may have enticed scientists into living in the area included: sophisticated apartments, intellectual debates in bars and clubs, and even an artificial beach! One could say that scientists living in Akademgorodok lived better compared to scientists in Moscow. High ranking scientists with doctorates were allowed special services from food deliverers, like having "a wider selection of groceries than available to the general population," though scientists often refused the favors on "moral grounds."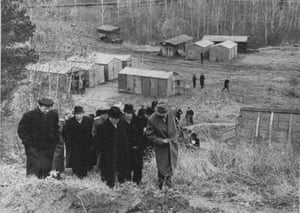 What made Akademgorodok so special as a scientific and academic space was that it was able to flourish in a way that it certainly could not have during Stalin's regime, it could be argued that even during Khrushchev's time it enjoyed certain liberties from being so far away from Moscow's grasp, being a "modernist cultural centre." Not only were scientists able to research or experiment on whatever they wanted, but other forms of intellectuals were able to take part in culture that was previously prohibited like read banned books and perform and see theatrical performances. Areas that were once considered pseudoscience (beliefs, theories, or practices that have been or are considered scientific, but have no basis in scientific fact) or "Soviet science" like cybernetics and genetics grew in an unprecedented rate in relation to scientific Soviet advancements. Even now, residents in the hub are physically and mentally separated from Moscow, allowing them to make decisions and determinations purely based on scientific experimentation and research and not on Soviet ideology. Akademgorodok is a perfect example of the "openness of exchange" the occurred with the "Thaw" brought about by Khrushchev.